New dishes on the menu – May 2023
Gravad beef · Karl Johan · Cress - served in a delicious crunchy shell
Gravad beef with Karl Johan mushrooms and cress, served in a delectable crunchy shell. This elegant dish features tender gravad beef, marinated with a blend of herbs and spices, accompanied by earthy mushrooms and vibrant cress. The flavorful combination is encased in a crispy shell, adding a delightful textural contrast to each bite.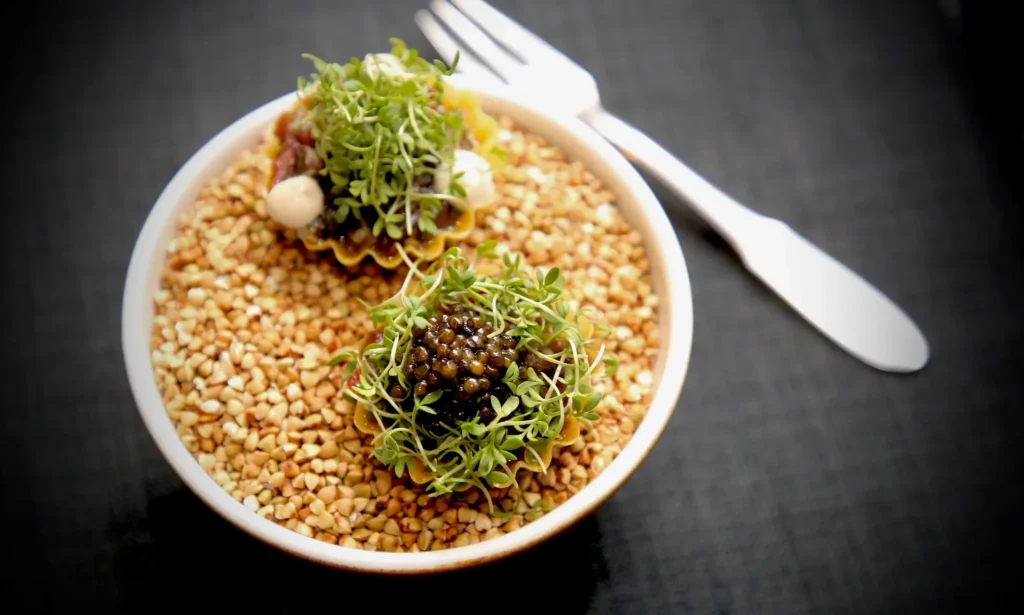 Chicken liver · Brandy · Butter
The chicken liver is succulent and melt-in-your-mouth, while the brandy and butter add depth and richness to the dish. It's a delightful and decadent treat for those who appreciate the unique flavors of chicken liver prepared with care and skill.
Lumpfish roe · Onion roe dip· Rösti
This elegant dish showcases the exquisite flavor of lumpfish roe, known for its vibrant color and delicate brininess. The accompanying onion roe dip adds a hint of sweetness and tang, perfectly balancing the roe's natural richness. Served alongside crispy and golden rösti, a Swiss-style potato pancake, it provides a delightful contrast in textures.
Fried Scallops · Peas a la Francaise · Champagne Sauce
Crispy fried scallops served with peas à la Française and a luxurious Champagne sauce. The scallops are perfectly cooked, while the peas add freshness and vibrant colors. The Champagne sauce adds a touch of elegance to create a memorable seafood experience.
Mackerel · Radish· Tomatoes · Yam Dressing
This dish features fresh and flavorful mackerel paired with crisp radish slices and vibrant tomatoes. The yam dressing adds a creamy and slightly sweet note, complementing the natural flavors of the ingredients. It's a harmonious blend of textures and tastes, creating a refreshing and satisfying seafood dish that highlights the essence of each component.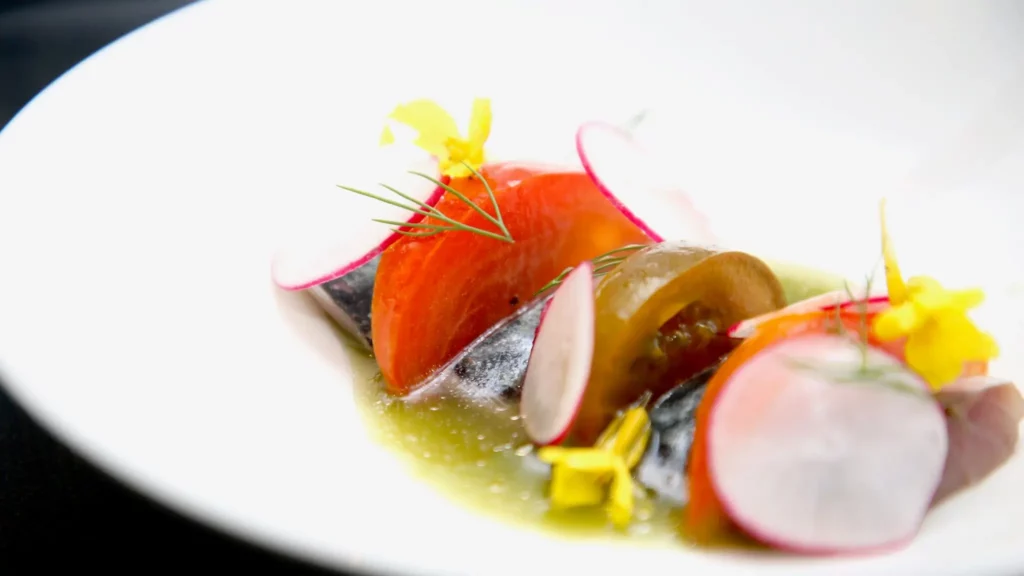 Poached Cod · Parsley · Spinach · Herbs · Mussel Sauce
Poached cod with parsley, spinach, herbs, and a flavorful mussel sauce. The cod is tender and moist, accompanied by vibrant greens and a rich seafood-infused sauce. It's a harmonious blend of flavors and textures, creating a truly satisfying culinary experience.
Variation of Rhubarb · Chocolate Bavarois · White Chocolate · Yoghurt
The variation of rhubarb brings a tangy and vibrant element, perfectly balanced by the creamy and indulgent chocolate bavarois. The addition of white chocolate adds a smooth and sweet layer, complementing the tartness of the rhubarb. The refreshing yogurt adds a touch of tanginess, providing a refreshing contrast to the rich flavors.
Selection of cheeses
4 European cheeses · Toasted bread · Nuts · Sweets
Selection of cheeses, each with its own distinct character and flavor profile. Accompanied by crispy toasted bread, the cheeses are perfectly paired with an assortment of nuts, adding a delightful crunch and nutty undertones. To satisfy your sweet tooth, the dish also includes delectable sweets that complement the cheeses. It's a perfect combination of savory and sweet, making it an ideal choice for cheese lovers seeking a diverse and satisfying tasting experience.